Discussion Starter
·
#1
·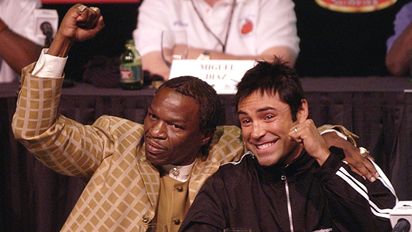 "Wanna know a secret?" Mayweather Sr., left, may hold the key to beating Mayweather Jr.
The rematch between Oscar De La Hoya and Floyd Mayweather Jr. is eight months away, and there also remains a May 3 tuneup fight for the Golden Boy to win before the sequel to boxing's richest fight is official.
But even with so many months to go, the central story line has been firmly established. It will be father vs. son and brother vs. brother with De La Hoya as the man in the middle of a long-simmering family feud.
That is because Floyd Mayweather Sr., who sat out the first fight, is returning to train De La Hoya to beat his estranged son. And Mayweather Jr. is trained by his uncle, Roger Mayweather, whose relationship with his brother, Floyd Sr., is about as warm and fuzzy as the relationship between a rattlesnake and a cobra.
Paging Dr. Phil.
Mayweather Sr. was on the sidelines for the first fight last May because of a salary dispute (he wanted $2 million) with De La Hoya, who, after being trained by Mayweather Sr. since 2001, decided to go with Freddie Roach because he was uncomfortable being trained by his opponent's father.
But De La Hoya lost a split decision to Mayweather Jr. and is reuniting with Mayweather Sr., his discomfort seemingly a thing of the past, especially with an irresistible story line that undoubtedly will help sell a pay-per-view fight. The first fight was a bit of a dud in the ring.
"I'm going to train Oscar," Mayweather Sr. told ESPN.com. "We patched things up. It was not a problem at all, but I don't even want to talk about the financial agreement. But everything is solid. When Oscar says we go to work, we go to work. We came up with something and I'm very comfortable. That's what matters."
Mayweather Sr. said he'll train De La Hoya for the May 3 tuneup fight, which probably will be against Steve Forbes (a former Mayweather Sr. pupil) and again when De La Hoya faces Mayweather Jr. in September.
Mayweather Sr. said camp will open March 1, probably in Big Bear, Calif., De La Hoya's regular base until moving to Puerto Rico, where he lives, for recent bouts.
Their reunion came about a few weeks ago, Mayweather Sr. said. He and De La Hoya spoke after strength coach Rob Garcia called him to gauge his interest in returning to De La Hoya's corner.
"I think we got everything ironed out that need to be ironed out," Mayweather Sr. said.
He said he had no qualms about preparing De La Hoya to beat his son, whom he used to train before a nasty split about 10 years ago.
"Daddy stepped to the side for the last fight, but why am I going to keep letting my son make money while I'm not? I got to make a living too," he said. "My son hasn't given me a penny so why am I stepping to the side? I'm not going to do the same foolish thing again. I'm going to do what is best for me this time. I let him have it last time.
"I taught him everything. I'm gonna tell you this right here -- when Oscar fights him this time it will be a much different fight than when he was with Freddie 'The Joke Coach' Roach. For all the things Floyd has accomplished off my training, I haven't received a dime off him. So why should I step aside again? I don't even feel like I'm fighting against my son because he don't treat me like a father. I have to put it all out of my head and do what is best for Floyd Joy Mayweather Sr. I will put all this aside and have Oscar at his best. Besides, I know the fight is much bigger with me in the corner, and that's fine."
Mayweather Sr. and his son had a brief reunion during his training camp for the first De La Hoya fight, but it quickly soured. That was the last time he and his son spoke.
"I spoke to my son one day and he acted like he didn't see me," he said. "All that's fine. People know how my son has treated me, how Floyd has treated his daddy."
Mayweather Sr. said his son's attitude changed when he started to make big money.
"Money drove him crazy. Anytime someone gets money and throws it up in the air, they're a damn fool," Mayweather Sr. said, referring to how his son sometimes throws wads of money to nightclub patrons. "You throw money in the air today, tomorrow you have none. I don't know who he thinks he is trying to impress. Everyone calls him a damn fool. He is a damn fool. If you want to give your money away you give it to your family. He has no brains at all and the people around him are too damn scared to tell him because they're afraid that if they do they won't get anymore."
Mayweather Sr. said he's also unmoved about opposing his brother.
"It's not important going up against him," he said. "Roger trains one and I train the other. It's a fight. We both got to do what we have to do."